Banned comic Bible play performed to packed house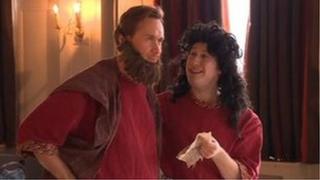 A comic play based on the Bible which was originally banned from a theatre in County Antrim played to a full house of 400 people on Wednesday.
Newtownabbey Borough Council in County Antrim had cancelled the Reduced Shakespeare Company's The Bible: The Complete Word of God (Abridged).
The move came after some councillors claimed it was blasphemous.
But on Monday, the council's artistic board decided it should go ahead and the full council backed that decision.
Originally, just 150 of the 800 available seats for the two performances had been sold. However, after the controversy erupted, tickets for both nights at the theatre sold out.
The council box office extended its opening hours on Tuesday, and its website also crashed because of a surge in demand.
The play has been described as a light-hearted attempt to condense the story of the Bible into less than two hours.
Speaking after Wednesday's show, one member of the audience said: "I don't know what the fuss was about. It was hilarious and marvellous."
A number of unionist councillors had originally objected to the production, saying it mocked Christianity.
But critics of that decision said it was censorship.