Portaferry: Council needs £900,000 from NI Executive to save aquarium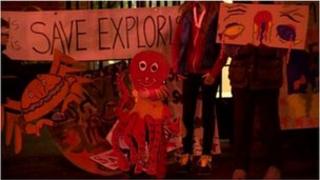 A business plan to save one of Northern Ireland's top tourist attractions has been agreed, subject to £900,000 government funding.
Ards Borough Council accepted the plan to save the Exploris aquarium in Portaferry at a meeting on Wednesday.
The aquarium had been earmarked for closure.
Under the proposals, there would be fewer staff and seasonal opening hours would be considered.
Keeping the aquarium open depends on funding from the Northern Ireland Executive. The council would continue to run the aquarium.
The proposed financial package would include revenue for the Seal Sanctuary from the executive, together with a substantial one-off capital grant of about £900,000.
If central government funding is confirmed, Exploris will remain open for the spring/summer 2014 peak season, closing temporarily from October 2014 for about six months to allow redevelopment work to take place.
Ards Mayor Stephen McIlveen said: "Conversations have been had with the (executive) departments while the plan was being formulated.
"This really came out of indications being made by (environment) minister (Mark H) Durkan last year who had indicated funding of a one-off capital grant that would be subject to a business case, subject to the council giving support to Exploris and to the executive giving approval.
"It appears that that's not on the table any more from minister Durkan, but we're very hopeful that it may be from different sources from within the executive.
"The indications we have is that it may come through tourism, but we'll have to wait and see what the executive says.
"We've created the business plan we've been asked to create, it's now up to the executive to step up to the mark."