Belfast bus crash: driver gets £37,000 for unfair dismissal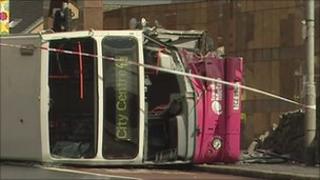 A bus driver who blacked out causing his double decker to crash and topple over in Belfast has won a claim for unfair dismissal, it has emerged.
Former Translink employee Ernest Wardlow was awarded more than £37,000 in compensation.
About 30 people were injured when the bus overturned on the city's Albert Bridge on 14 August 2011.
After his black-out and a subsequent one at work, Mr Wardlow was redeployed to a position as a cleaner.
The tribunal concluded that he had been redeployed into a significantly different post from his own job and this amounted to unfair dismissal.
It said the bus company acted unfairly when they redeployed Mr Wardlow "on what appears to have been a take it or leave it basis".
Translink was ordered to pay him £37,585.50 in compensation.
A further claim on the part of the driver on the grounds of disability discrimination failed.
In August 2011, the bus was travelling towards Belfast city centre when it mounted the kerb just outside Central Station and collapsed on its side at about 14:15 BST.
No-one was killed in the accident.
Cutting equipment was used to free Mr Wardlow, who was badly injured, from the bus.
Nine people were taken to the Royal Victoria Hospital, including the bus driver. Another 10 people attended the City Hospital, while eight were taken to the Mater Hospital.
Two children were transported to the Royal Belfast Hospital for Sick Children and a pregnant woman was brought to the maternity unit at the Ulster Hospital in Dundonald.
Most of the injured passengers were treated for cuts, bruises and sprains.