Ivan Lewis says elections could lead to 'political paralysis' in NI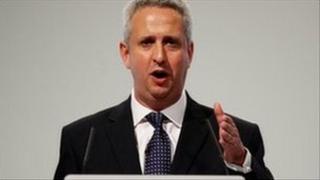 The shadow secretary of state has said he is concerned that three years of consecutive elections could lead to a period of "timidity or political paralysis" in Northern Ireland.
Ivan Lewis was speaking during a one-day visit.
He warned that "standing still" over the challenges that still remained would "mean going backwards".
Talks by the five main parties on parades, flags and the past broke up without a deal on New Year's Eve.
They were chaired by the former US diplomat Richard Haass and Harvard professor Meghan O'Sullivan.
The Labour MP told NI21 students at an event at Queen's University on Wednesday: "I do not fear a reversal in the progress which has been made, but equally when one considers the major economic, social and cultural challenges Northern Ireland faces, standing still will mean going backwards.
"Good leadership is about being able to enthuse and mobilise your own supporters and deliver for everyone on the bread and butter issues which affect their everyday lives.
"However, great leadership in post-conflict situations is also about standing in the shoes of your former foes, demonstrating your understanding of their anxieties and aspirations and crucially sometimes saying difficult, challenging things to your own supporters."
Mr Lewis said although it was disappointing that no agreement was reached over the Haass proposals, it would be wrong for the British and Irish governments to try to impose a deal.
"This process was started by the Northern Ireland political leaders and we strongly urge them to see it through," he said.
"However, both governments have a clear responsibility to stay close to the process and exercise their influence in a positive way to support the difficult but necessary compromises which will be essential to any agreement."
Earlier the Secretary of State Theresa Villiers had said the government could support funding for structures to deal with Northern Ireland's past. Ms Villiers said the primary source of funding for any new bodies set up by the Haass proposals should come from Northern Ireland's block grant.
However, she added that a proposal for additional funding would be looked at.
Ms Villiers said that the creation of institutions to deal with the past was not an easy one for the government.
"The concern is that, however carefully new structures on the past are set up and however clear the criteria for their work is, there's always the anxiety that their focus will start to be on the very limited number of tragedies in which the state was involved, rather than the majority that were the responsibility of terrorists," she said.