Video interview of alleged victim of sexual abuse shown to jury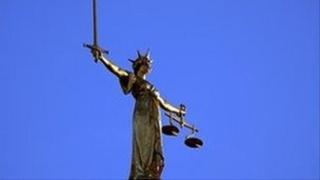 The jury in the trial of three men charged with a series of sex offences against siblings have watched a video interview with one of the two alleged victims.
It was conducted when she was 13 years old.
In it, she told a social worker about abuse committed by her father - one of the three men in the dock.
She said he used to get into bed with her frequently, sometimes every night.
The alleged victim also outlined some details of being touched by her father.
She made no mention of abuse committed by others and did not give all the details that the trial has heard about the alleged abuse.
Following the video evidence, the alleged victim featured in the tape was asked by a defence barrister if she had heard about her aunt's allegations of sexual abuse when she finally told her mother she had been abused. She replied that she had.
Asked by the judge why she did not tell the social worker everything, she said: "I was scared, I was ashamed and I don't think I had the words for what happened."
The siblings claim they were abused by their father, uncle and a family friend, who cannot be named for legal reasons.
Later on Wednesday, one of the defendants accused of rape told the court that his alleged victim was lying.
He is the only defendant who is not related to the siblings and he faces charges connected to a young girl.
He told the jury at Coleraine Crown Court that he "never, ever" sexually assaulted her on any occasion.
He said he had attended social gatherings at the house where she had lived. He said he taken drink there and had watched pornography.
Once, he said, he had played a card game. When it was put to him that he also sexually abused her, he replied: "That's totally untrue - it never happened".
The three defendants face more than 50 charges, including multiple counts of rape.
The trial continues.