Titanic Quarter Belfast to get two new film studios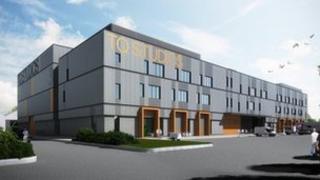 Two new studios planned at Titanic Quarter will help establish Belfast as one of Europe's largest film production locations, according to backers of the £14m project.
Details of the proposals to add the new facilities were announced in September last year.
Work could begin within the next few months, pending approval of planning applications submitted in December.
The studios would give an additional 100,000 square feet of facilities.
That would almost double the existing production space at Titanic Studios, which incorporates Harland and Wolff shipyard's former Paint Hall building.
The HBO TV series Game of Thrones is driving demand for additional space in Belfast, according to David Gavaghan, the chief executive of Titanic Quarter.
The series uses the existing facilities and also films at locations in Northern Ireland.
"The planning application is a measure of Titanic Quarter's intent to ensure Northern Ireland's film industry continues to grow," he said.
On the map
"The planned extension will help establish Belfast as one of Europe's largest film production locations with eight stages."
Titanic Studios were put on the map in 2007 when used for the science fiction movie City of Ember, starring, among others, Tim Robbins and Bill Murray.
Since then, the first and deputy first ministers, Peter Robinson and Martin McGuinness, have used trips to the US to promote the studios.
Analysis by Northern Ireland Screen shows that the existing studios have been worth £120m to the local economy.
Its CEO Richard Williams said: "The construction of more stages can only assist us with attracting further productions to Northern Ireland."
He added that new UK tax breaks for high-end television drama and animation would also help.
Titanic Quarter also said it was its "ambition to create a dedicated media campus" around the film studios.
Previously, it had said BBC Northern Ireland was considering re-locating there.