NICEI: NI economy grew by 1.6% in third quarter of 2013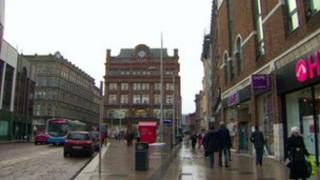 The Northern Ireland economy grew by 1.6% between July and September 2013, according to official figures.
These are the most up-to-date growth figures for the economy and are measured using the Northern Ireland Composite Economic Index (NICEI), which is roughly equivalent to GDP.
In the same period in 2013, GDP in the UK as a whole grew by 0.8%.
The much stronger Northern Ireland growth may reflect the fact that its economy is coming off a lower base.
Despite the strong growth in the period, the Northern Ireland economy is still almost 10% smaller than its peak in 2007.
By comparison, the UK economy as a whole has made up almost all the output lost as a result of the recession - it is now less than 2% below its 2008 peak.
The growth in Northern Ireland between July and September 2013 saw contributions from services and production which were both up by 0.7% while construction grew by 0.2%.
The figures suggest that by September 2013 the Northern Ireland economy was 1.2% larger than it was at the same point in 2012.
By comparison, the UK economy grew by 1.9% over the same period.
The strong growth in the third quarter of the year is, by recent standards, breathtaking.
It confirms the positive month-on-month news coming out of the various business surveys, such as the Purchasing Managers Index.
Growth is being underpinned by a gradually improving labour market. The numbers of people claiming Job Seekers Allowance has been falling for almost a year.