Teenager stabbed in New Lodge, Belfast, alleyway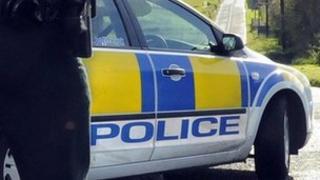 A 17-year-old youth has been stabbed as he walked through an alleyway in the New Lodge area of north Belfast.
He was attacked at the entry at Bruslee Way early on Wednesday by two men with their faces covered by their coats.
The teenager was grabbed from behind and he thought he had been punched in the back.
He broke free from the men and ran to safety. He was taken to hospital for treatment for a stab wound to his shoulder.
Police said they had received a report of the attack at about 01:00 GMT on Wednesday.
One of the attackers was said to have been wearing a green coat and black shell bottoms, while the other was wearing a black coat and black shell bottoms.
Police have appealed for witnesses.