Businessman Ivan Preston harassed bank manager with 400 emails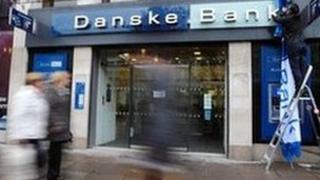 A County Down businessman has been convicted for harassing a manager at Danske Bank in Belfast.
Ivan Preston, 54, from Bryanburn Road in Bangor, sent more than 400 emails to the bank and accused them of corruption.
He sent the emails after a tender of work his courier business had made to the bank was turned down.
Preston was granted bail to appeal the conviction by the judge at Ards Magistrates' Court.
He had denied harassing Elwyn Thompson, relationships and IT manager at Danske Bank's Donegall Square branch.
Preston admitted sending Mr Thompson, who deals with third party supplier contracts, 357 emails between June 2012 and June 2013 after his tender was refused.
The defence argued that Preston's long series of emails amounted to a sustained inquiry, and was not harassment.
'Questioned integrity'
Mr Thompson told the court Preston's emails accused the bank, and the three other large banks in the city, of having an "unfair bias against his successful business", and claimed the tendering processes were "corrupted".
The manager said the emails, which were forwarded to other banks, began at a weekly level, and eventually reached a frequency of up to nine mails a day.
After receiving communication from the bank explaining how they believed their tendering process was fair, and drawing a conclusion to business and further communication, the court heard Preston's emails "grew in number and intensification".
Mr Thompson said Preston had begun to question his personal integrity in the emails, and was ringing him regularly at work.
He described him as "courteous and polite" on the phone, but described his demeanour in the emails as "frustrated".
The manager on one occasion received an envelope containing a bound book, titled The Northern Ireland Banks, by R. Crooks, which he described as involving "more ramblings about the banking sector".
'Distressing'
The court also heard Preston attended the Danske brand relaunch media event, and was involved in a "brief confrontation" with the chief executive, as well as contacting media and politicians with details of his criticisms of the banks.
Mr Thompson added: "I am a person of high moral standards and personal integrity. To receive these emails was personally distressing, leaving me anxious and worried about how my colleagues and superiors would view me, not to mention the broader audience that was involved.
"My home town is the same as Mr Preston's… I wondered at times 'what if I see him when I'm out buying groceries with my wife'. There was a genuine concern that I could step outside the office and see him waiting for me in the street."
Preston told the court that he accepted sending the emails, but continued to do so as he believed all attempts to address the issues he raised with the banks were "met with no success".
He said his intention was to "get information in line with their corporate responsibility statement which refers to openness and transparency".
After Preston said Danske Bank had "links to criminal behaviour,' District Judge Mark Hamill told him: "Do not mistake this court for a platform for your opinions on the banking industry. That's a ruling by me. I do not have time to listen to your rants against the banks."
'Swamped'
Preston admitted he continued to send emails after receiving a pin (harassment warning) notice from police, who the bank had contacted to begin an investigation into harassment.
Judge Hamill said: "What struck me about reading the sample of emails was the amount of time it must have taken to compose and read them.
"The defendant chose to use his time this way, and the complainant had no choice but to receive them."
The judge said the law conceded that if any act was repeated on many occasions it could be deemed harassment.
Asking if the complainant had experienced harassment, he said: "Of course. This man was swamped."
He added: "This course of conduct may not have been stopped by police, but it will be a very different matter if it is not stopped by this court."
The judge imposed a restraining order for two years, restricting Preston from communicating with Danske Bank, and gave him a conditional discharge for two years, which he described as "a fool's pardon". He granted the defendant £400 bail to appeal the charge.
Update 18 July 2013: The conviction and conditional discharge were dismissed on appeal at Newtownards Court on 4 July 2014. A two-year restraining order forbidding Mr Preston to contact Mr Thompson was imposed.