Doorman Colin McLeister died 'in blink of an eye'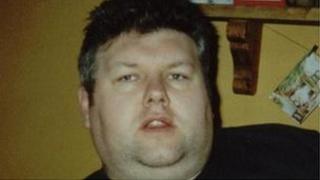 A friend of off-duty doorman Colin McLeister, who fell to his death down a flight of stairs, said he died "in the blink of an eye".
Mr McLeister died during a Christmas night out for colleagues and close friends in Portrush, County Antrim.
Two friends gave evidence on Tuesday at the trial of Muredach Martin Doherty, 36, of Hawthorn Crescent, Dunloy, County Antrim.
Mr Murdoch denies the manslaughter of Mr McLeister in December 2011.
The prosecution at the Antrim Crown Court trial said that a drunken Mr Doherty pushed 48-year-old Mr McLeister to his death at the Playhouse complex.
Mr Doherty said it was a tragic accident in which he "misfooted" and put his hands out to save himself, before they both ended up at the bottom of the stairs.
One witness said that Mr McLeister's fall, followed by Mr Doherty, "was unexpected... totally out of the blue... in the blink of a eye".
'Drink taken'
The other agreed that "nothing he saw on the stairwell, gave him any suspicion that there would be a violent end to that evening".
Billy Oliver said he had initially seen Mr Doherty being shown to the top of the stairway by his boss, who had organised the Christmas party.
However, once his boss left, he saw Mr Doherty turn and begin to walk back into the entertainment complex. He stopped him, and while pointing him back downstairs, he was joined by Mr McLeister.
Under cross-examination by a defence lawyer, he accepted that, as others had described him, Mr Doherty "had drink taken... but was not falling down drunk".
Mr Oliver, who said Mr Doherty was at all times "compliant", later told Judge Desmond Marrinan, Doherty was "as quiet as a church mouse", and when asked to leave "did not take offence".
'Could have stumbled'
Mr Oliver accepted his focus of concentration was on Mr Doherty's back, and not his foot movements, and that he got the impression of "a forward motion, with (Mr Doherty's) two hands outstretched" before Mr McLeister, who had been in front of him, fell down the stairs.
The doorman said he believed that in his police statement he described it as a "40% push, not a... full force push". He accepted the push was "significantly less than that" and that he was not "in the position to reject any suggestion that he (Mr Doherty) had stumbled".
"I did not see a stumble, but as you said I was not looking, watching his feet. I accept he could have stumbled, but I am not watching his feet... I accept what you are saying, yes."
A colleague, Terry Monaghan, said he was standing at the foot of the stairs by the door, when he noticed Mr Doherty being shown out, with Mr McLeister in front.
He described Mr Doherty as "steady enough on his feet. He wasn't staggering or anything like that".
However, this is all he remembered seeing, telling a prosecution lawyer he "just can't visualise what happened next... I can't remember Colin falling down the stairs... just the thud as he hit the ground".
At hearing.