Giro d'Italia Belfast route to pass site of Dunlop tyre revolution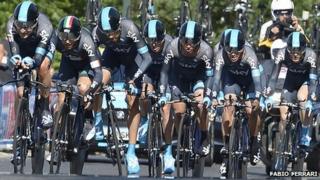 One of the world's largest cycle races, the Giro d'Italia, begins in Belfast on 9 May, 125 years after the city witnessed arguably the single most important development in the history of cycling.
Thousands of visitors are expected in Northern Ireland, and millions more are expected to watch on television, as the race starts on the streets of Belfast, speeds through the picturesque County Antrim countryside via the Giant's Causeway on the second day, before leaving the historic city of Armagh en route to Dublin on day three.
What few of the spectators, or even competitors, will realise is that the route on day one will pass by the location of an event that would forever change the face of cycling.
The unlikely revolutionary was local cyclist Willie Hume, who on 18 May, 1889, took part in a series of races at the North of Ireland cricket ground on the city's Ormeau Road.
He was not considered one of the better cyclists at the time, but that day he won all of the races he entered.
His secret weapon was the first pneumatic tyres, recently invented by John Boyd Dunlop, and fitted on the unfashionable safety bike, the forerunner of all modern bikes.
Until then the Penny Farthing, with its large wheel at the front and small wheel at the rear, had been considered the fastest bike on both road and track.
Mr Hume's unexpected success changed all that.
Pneumatic tyres made bikes both faster and more comfortable, and led directly to a big increase in the number of women who were able to take up cycling.
'Social progress'
The route of the Giro's first stage - a team time trial from Belfast City Hall to Stormont and back - will pass the site of the now redeveloped North cricket ground, and local cycling campaigners want the anniversary of the Hume/Dunlop race to be marked in some way.
A blog was launched on Monday to try and drum up interest, and a cycling campaigner said urgent action needed to be taken.
Roy White, chair of the Northern Ireland Cycling Initiative, said: "To celebrate Hume and Dunlop is to celebrate technical innovation leading to social progress.
"Creating a faster bicycle is significant enough, particularly when the cream of the cycling world is descending on Belfast.
"But the real legacy of Dunlop/Hume was in helping to enable cycling for all, male and female, young and old, fast and slow."
Proposals include a reconstruction of the 1889 race, complete with Penny Farthings and period dress.