Powerteam sold to VINCI Energies for undisclosed sum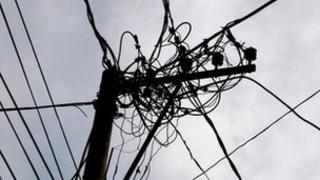 Powerteam, the Belfast-based firm that specialises in fixing overhead power cables and electrical substations, has been sold to a French firm.
Powerteam was spun out of NIE's engineering department and has been owned by the Republic of Ireland's state energy company, ESB, since 2010.
Its new owner is VINCI Energies, which has not disclosed how much it has paid for the business.
VINCI has an annual turnover of 9bn euros (£7.4bn) with 64,000 employees.
The company operates in 45 countries.
Alastair Dawson, managing director, Powerteam, said: "This is a very positive move for the future outlook of the company.
"With the backing of VINCI Energies it means that we can further develop our relationships with current clients like SSE, Northern Powergrid, Electricity North West, ESB and various wind farm developers."