Former senior police officers challenge Smithwick report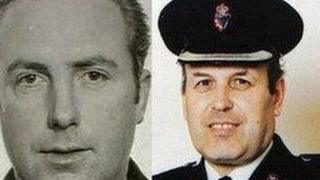 Three former Irish police officers have challenged the findings of an inquiry into alleged collusion with the IRA.
Judge Peter Smithwick found, on balance of probability, that an un-named officer of the Garda Síochána (Irish police) had tipped off the IRA when two senior Royal Ulster Constabulary officers left Dundalk garda station.
Chief Supt Harry Breen and Supt Bob Buchanan were then ambushed and killed.
They were the most senior RUC members to be killed in the Troubles.
The murders took place in south Armagh in March 1989.
The three former senior garda officers, all of whom served in Dundalk at various stages in their careers, say the Smithwick finding is not based on fact and have called on the Irish government to reject the judge's conclusions as "a matter of urgency and justice".
Critique
A day after the Smithwick report was published the Garda Commissioner, Martin Callinan, apologised to the families of the two RUC officers and said he "accepted" the findings but did not go as far as saying he agreed with the findings or believed them.
The three former gardai, retired Chief Supt John O'Brien, former Chief Supt Michael Staunton and retired Chief Supt Michael Finnegan, have written a 30-page critique that they have sent to, amongst others, the Irish prime minister, Enda Kenny, and the justice minister, Alan Shatter.
They suggest the finding of collusion "undermines the capacity of the state to actively pursue the many substantiated acts of collusion committed in the conflict".
They also say the findings impugn the good name of the Garda Siochana and the work it did in fighting paramilitarism.
After analysing the report "line by line" they criticise the Smithwick inquiry both for its conclusions and its methods.
Colluded
The three believe Judge Smithwick should have given greater weight to the statements of former IRA members that the killings resulted from a long-standing surveillance operation in which there was no garda involvement.
The IRA gave evidence to the inquiry but no member appeared in person to allow themselves to be cross-examined and challenged about their version of what happened.
The officers accuse Judge Smithwick of accepting information given in private by PSNI Assistant Chief Constable Drew Harris that unidentified garda members had colluded in the murders.
Commissioner Callinan's senior counsel described that Drew Harris evidence to the tribunal as "nonsense on stilts".
Despite this clash the two police services say they are fully united in the cross-border battle against crime and dissident republicans.