NI leaders focus on parading in Haass blueprint talks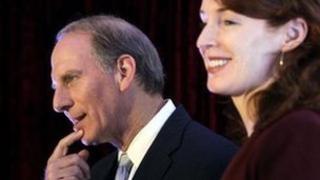 Leaders of the five parties in Northern Ireland's Executive have held further talks about proposals on parades, flags and dealing with the past.
Former US diplomat Dr Richard Haass, who chaired a six-month talks process, has proposed a blueprint settlement that has yet to achieve consensus.
The talks on Tuesday focused on parading issues.
Discussions will resume at a later date when the parties will debate an updated paper on parading.
Negotiations chaired by Dr Haass and Harvard professor Meghan O'Sullivan broke up without a deal on New Year's Eve.
Sinn Féin and the SDLP endorsed the proposals, but the DUP, UUP and Alliance have, so far, rejected elements of the Haass blueprint.