Omagh bomb: Two held liable bid for Supreme Court hearing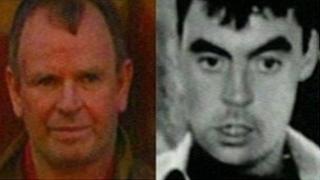 Two men held liable for the Omagh bombing are to go to the UK's highest court in a new attempt to overturn the verdict.
Colm Murphy and Seamus Daly were found responsible for the Real IRA atrocity in two separate civil trials.
Senior judges rejected their latest appeal and lawyers for both men are now preparing to ask the Supreme Court in London to hear their case.
Murphy and Daly face a £1.6m damages award made against them and two others.
Twenty-nine people, including the mother of unborn twins, were killed in the August 1998 bombing in the County Tyrone town. Hundreds more were badly injured.
No-one has ever been convicted in a criminal court of carrying out the bombing.
Relatives of some victims brought an unprecedented compensation claim against those they suspected of being connected to the attack.
Murphy and Daly secured a retrial after they successfully appealed against being held responsible in an initial ruling in 2009.
Two other men, convicted Real IRA leader Michael McKevitt and fellow dissident republican Liam Campbell, failed to have the findings against them overturned.
In March last year, a judge in the second High Court trial decided on the balance of probabilities that Daly called O'Connor on the day of the bombing on one of the phones allegedly supplied by Murphy.
The two defendants appealed the verdict, claiming they were denied a fair hearing.
Murphy's legal team also contended he should not have been held liable based on his failure to testify.
But last month the Court of Appeal dismissed all grounds on which they had attempted to clear their names.
Counsel for the pair returned on Tuesday to ask the same panel of judges to certify points of law of general public importance to take to the Supreme Court.
Counsel for Murphy argued there was an issue over the credibility of previous statements made to Irish police by a client who did not give evidence in the case.
Daly's barrister questioned whether the trial judge in Belfast had legal power to rely on evidence given in Dublin.
She identified a separate issue about identification evidence.
Resisting the application, counsel for the Omagh families argued that no point of general public importance had been raised.
"What the court is being asked to do is have a second review of the facts," he said.
Refusing to certify the case, Lord Justice Higgins, sitting with Lord Justices Girvan and Coghlin, said: "We will leave it to the Supreme Court to consider whether there's a point of law on the grounds worthy of consideration."
Outside the court lawyers for the two defendants confirmed their intention to now petition for a hearing.
Murphy's solicitor said his client had already given instructions for the legal move.