BP quits Islandmagee Storage's Larne Lough gas plan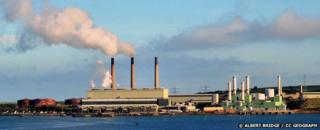 BP has pulled out of a project to store gas below Larne Lough.
The £400m facility would store imported natural gas in seven excavated caverns, holding enough gas to satisfy Northern Ireland's energy needs for 60 days.
BP had an option to buy a majority share in the firm developing the project, Islandmagee Storage Limited.
However, the energy company said that following a review of its European gas assets portfolio it was no longer interested in exercising that option.
There are two other partners in the project, the Northern Ireland energy infrastructure company Mutual Energy and the UK oil and gas company InfraStrata.
However, they need an investment partner, such as BP, that has major financial resources and the appetite to take on commercial risk
They are now starting the process of finding a new investor.
Islandmagee Storage Limited (IMSL) director Paddy Larkin said they were "naturally disappointed" by BP's decision to pull out, but it was not a fatal blow for the scheme.
"The project remains intact and we have the funds available to secure it for the future. We are convinced that the attributes of the Islandmagee development, as a project, remain undiminished," he said.
InfraStrata said that the money already invested by BP has left IMSL in a position to cover the company's existing commitments and to secure the project until there is a new investor.
The firm still plans to carry out exploratory drilling later this year.
The scheme was given planning permission in 2012 and has also secured a gas storage licence and other consents.
Last year, it was shortlisted for a government funding guarantee.
The UK Guarantee scheme allows the government to act as guarantor for a proportion of the value of a project.