Banking inquiry: Ulster Bank chief says more branches to close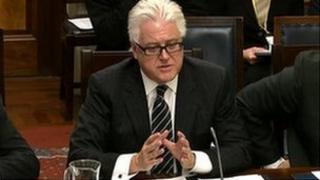 Ulster Bank's chief executive has told an inquiry into the Northern Ireland banking industry that there will be more branch closures.
The Westminster inquiry is looking at the way banks in Northern Ireland are run, access to banking in rural areas and provision of finance to business.
It heard that in the last three months of 2013 just 16% of Ulster Bank transactions took place in branches.
The number of closures will not become clear until February.
A review of the bank's operations will be published then.
Last year, the bank said it would close "a single figure" number of branches in Northern Ireland, but has not yet moved to do so.
First Trust Bank, which was also giving evidence, said it could not rule out future closures, but added that the "vast majority" of restructuring of its business had been done.
Ulster Bank's Jim Brown also told the Northern Ireland Affairs Committee that details of how the bank will run off its bad loans will be finalised in March.
RBS, the bank's parent company, has created an internal bad bank, the Capital Resolution Group, which will hold about £38bn of assets.
About £9bn relates to Ulster Bank, mainly commercial property loans.
RBS aims to run these loans off aggressively, shrinking the bad bank by 85% within three years.
Mr Brown said the strategy had not been decided, but could include sales of property portfolios or their underlying loans.
Ian Paisley junior asked if that would involve an element of debt forgiveness, to which Mr Brown said "a wide range of options" was under consideration.
He was also asked about the allegations made by the businessman Lawrence Tomlinson that Ulster Bank deliberately bankrupted some viable businesses to make more profit.
His allegations centre on a division of RBS and Ulster Bank specialising in loans seen as being more risky.
Mr Brown said Mr Tomlinson "hadn't engaged" with Ulster Bank prior to publishing his report though someone from his office had subsequently sent an email.
He added that the allegations were being taken seriously, but he had seen no evidence of "systemic abuses".
The MPs also asked Ulster Bank about the fallout from its IT meltdown in 2012.
The head of the bank in Northern Ireland, Ellvena Graham, said she was "very acutely aware" of the damage caused to the bank by that incident.
She said RBS had invested heavily in IT since then and Ulster Bank was no longer so dependent on RBS systems.
She added that work on improving the systems would still take a couple of years to complete.