Alleged victim changed rape estimate, Coleraine court told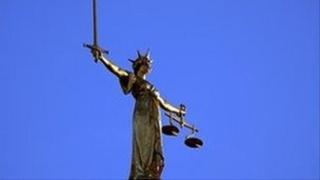 An alleged victim of sexual abuse originally told police that she had been raped around 2,000 times, Coleraine Crown Court has heard.
Three men - a father, his brother and a friend - deny sexually abusing two siblings during the 1990s.
The alleged victims are a brother and sister from Northern Ireland.
A police officer told the court the girl made a statement alleging she had been raped around 2,000 times when aged between six and 13.
When the defence counsel asked why this number was later reduced to 1,000, the police officer said that the alleged victim returned and told police: "I have been counting this and I believe I was wrong in my original statement."
Another officer outlined how one of the defendants made a police statement in which he described a man who is now a fellow defendant as "a monstrous big fella, like a man mountain".
The siblings allege they were abused by their father, uncle and a family friend, who cannot be named for legal reasons.
The three defendants face 56 charges, including multiple counts of rape.
The trial continues.