Belfast to Cork plane crash: Loss of control was probable cause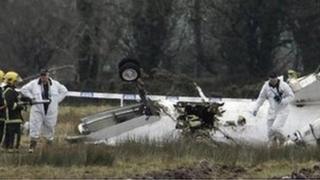 The probable cause of a plane crash in Cork that killed six people was a "loss of control" during an aborted landing, a report has found.
The six died when the plane being used by Manx2 crashed on approach to Cork airport after flying from Belfast.
The aircraft, with 12 people on board, crashed in fog after failing to land on its third attempt in February, 2011.
The report by Ireland's Air Accident Investigation Unit (AAIU) also made 11 safety recommendations.
It said it was the most challenging of the more than 500 investigations it had completed.
The AAIU report described poor visibility conditions and a tired crew as "significant".
It said they continued with the descent without "adequate visual reference being acquired".
It also reported there was an inappropriate pairing of flight crews, inadequate command training and checking and inadequate oversight of the chartered operation by the operator and the operator's state.
The report found the engine power levers were below the normal in-flight operational range and that a power difference between the engines became significant as a result.
Irish, British and Spanish passport-holders were on board the aircraft, which was flying between George Best Belfast City Airport and Cork as part of a scheduled daily service.
Two flight crew members and ten passengers were on the aircraft, a Fairchild SA 227‐BC Metro III registered in Spain as EC‐ITP.
The six who died were three Northern Ireland businessmen, a Briton, a Spanish pilot and British co-pilot.
The AAIU also identified systemic deficiencies at the operational, organisational and regulatory levels.
They included included pilot training, scheduling of flight crews, maintenance and inadequate oversight of the operation by the operator and the state of registration.
Eleven safety recommendations have been made:
• Four to the European Commission Directorate responsible for commercial air transport about flight time limitations, the role of the ticket seller, safety and operating licences.
• Three to the European Aviation Safety Agency (EASA) about the number of approaches that can be made to an airfield in certain conditions, the syllabus for appointment to commander and how Air Operator Certificate (AOC) variations are granted.
• Two to the operator, Flightline S.L., regarding its operational policy and training
• One to Agencia Estatal de Seguridad Aérea (AESA), the Spanish Civil Aviation Regulatory Authority, regarding oversight of air carriers
• One to the International Civil Aviation Organization (ICAO), regarding flight plans