Martin McGuinness: UK government should help fund Haass deal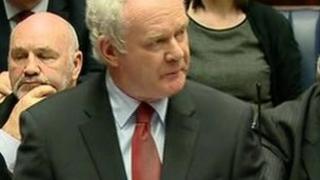 NI's deputy first minister has called on the UK government to help fund any potential deal that emerges from current political talks.
Martin McGuinness said the government had a "huge responsibility" to contribute financially.
Stormont's five main parties are currently locked in negotiations on a draft deal to resolve contentious issues of parades, flags and the past.
The party leaders are due to meet on Tuesday in a bid to make progress.
Former US diplomat Dr Richard Haass, who chaired a six-month talks process in a bid to find agreement, has proposed a blueprint settlement that has yet to achieve consensus.
Mr McGuinness also told the assembly the administrations in Washington and Dublin were also of the view that London should make a contribution in the event of an agreement.
New bodies
Northern Ireland Secretary Theresa Villiers has said the government could not make any guarantees that it would release additional support, but said any bid would be considered "very seriously".
If the broad architecture of the Haass plan was accepted it would necessitate the establishment of a range of new public bodies.
Mr McGuinness said: "I think there is a huge responsibility on the British government in particular to recognise that in the event of agreement being reached that they should make a financial contribution towards the establishment of these important bodies to deal with what are very contentious issues within the process.
"I would contend that whatever price that would be paid by the British government would be minimal in the context of resolving issues that cause great aggravation in our community and have, by their existence, created all sorts of difficulties within these institutions."
Mr McGuinness has already warned his political rivals in Stormont that if progress is not made in the inter-party talks in the next three weeks or so, then a deal might not be reached.
'Embarrassing'
He said local politicians needed to change public perceptions that they had failed.
"I think there is huge responsibility on all of us to find a way forward on these three contentious issues," he said.
"I think it is incumbent on all of us to be positive and constructive and to recognise that the lot of politicians among the general public isn't great, and I find that embarrassing.
"I think what we need to do is show the public right across society that we have the ability to tackle these difficult issues.
"We have tackled even more difficult issues than this in the past."