Chief constable job rule change to go to executive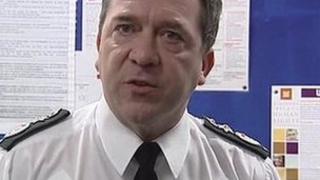 A plan to change the criteria for applicants for the job of Northern Ireland's chief constable is to go before the Stormont executive.
Justice Minister David Ford had announced the change on Monday.
But the first and deputy first ministers said they regard the issue as "significant in its likely impact on the role of the Policing Board".
The Police Service of Northern Ireland's (PSNI) Chief Constable, Matt Baggott, will retire in September.
Mr Ford wants to remove a rule that applicants must have served at assistant chief constable rank for a minimum of two years outside of Northern Ireland.
The change would make the two-year criteria "desirable" rather than mandatory.
Peter Robinson and Martin McGuinness have written to Mr Ford to tell him of their decision.
The matter will be discussed by the executive on Thursday, and unless Mr Ford, an Alliance minister, withdraws the proposal, it is likely to be overturned.
This is due to the larger numbers of DUP and Sinn Féin on the executive, but it would be hugely embarrassing for the justice minister.
Members of the Policing Board, which appoints the chief constable and holds him to account, said they had been caught by surprise by Mr Ford's announcement.
They said the decision had undermined the board's authority.
Widen pool
The amendment would have widened the pool of potential internal PSNI applicants.
Potential applicants will, instead, have to have successfully completed the Strategic Command Course, or an equivalent.
As it stood, only one senior PSNI officer, Assistant Chief Constable George Hamilton, was eligible to apply to succeed Mr Baggott as he served almost three years at the same rank in Scotland.
The amendment would mean other high-profile PSNI assistant chief constables who have completed the Strategic Command Course, including Will Kerr and Drew Harris, would be able to apply.
So, too, would senior officers from other UK police forces who have not been in post for more than two years.
The Strategic Command Course is the UK's national qualification course for promotion to chief officer. It is an essential criteria for anyone wanting to apply for the position of assistant chief constable with any UK police force.
Applicants go through an intensive three-day assessment centre and then on to the course, if selected.
But any change would come too late for Deputy Chief Constable Judith Gillespie, who did not meet the two-year criteria, but who has already declared that she will retire in March.