Man denies killing Colin McLeister in Portrush Playhouse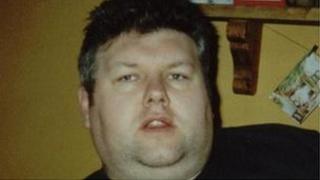 A man accused of manslaughter has denied pushing a doorman down a flight of stairs to his death, a court has heard.
Muredach Martin Doherty, 36, of Hawthorn Crescent, Dunloy, County Antrim, denies killing Colin McLeister.
On Monday, the prosecution told Antrim Crown Court that Mr Doherty pushed Mr McLeister, 48, to his death in 2011.
Mr Doherty said he "misfooted" and put his hands out to save himself, before they both fell.
Mr McLeister, a father of three from Coleraine, County Londonderry, was attending a work Christmas party at the Playhouse complex in Portrush, County Antrim, in December 2011.
'Compliant'
The prosecution told the court that Mr Doherty initially claimed to have little or no memory of what had occurred, or of being abusive with police following his arrest.
The court was told that the Playhouse had been the second venue Mr Doherty had been asked to leave that night, and he was being escorted from the building for a second time when Mr McLeister fell.
Prosecuting counsel said Mr Doherty had been escorted out of the building by Mr McLeister's boss after a disturbance in the toilets
Mr McLeister's boss was holding the party for his staff and had told Mr Doherty that his night was "effectively" over.
The court heard that Mr Doherty appeared to be compliant and did not resist.
However, after Mr McLeister's boss turned to leave, Mr Doherty was seen heading back toward the toilets.
At that point, another guest at the party made it "clear to the defendant he would have to leave", and began to walk him out with Mr McLeister's help.
The prosecution said Mr Doherty again appeared to be compliant, and was leaving the building "with no pushing or shoving".
'Misfooted'
The prosecution said as Mr Doherty was being escorted down the stairs, Mr McLeister somehow ended up in front of Mr Doherty.
The prosecution said Mr Doherty "pushed on Mr McLeister's back and it resulted in him falling down the stairs".
The court was also told that Mr Doherty landed on top of Mr McLeister, started to kick out at him as he was getting up and had to be restrained by others.
During police interviews, Mr Doherty claimed that he "didn't do it" and said he didn't have a good memory.
The prosecution also said he told officers he only "wished he had" so he could prove his innocence.
The court heard that Mr Doherty had told police he denied pushing Mr McLeister.
He said: "They were marching me down the stairs and whenever I was going down the stairs I misfooted.
"I just put my hand out to save myself and I just went tumbling down the stairs, and the big lad went with me. Pure accident."
The trial is expected to last all week.