Green Jobs: Planting the seeds of opportunity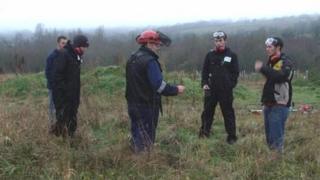 "Most people would see gardening - not being sexist, but as a woman's pastime.
"It really isn't. It's for everyone who wants to get outside and get their hands dirty and plant things and watch them grow and excel in the sunlight."
These are not the words of Alan Titchmarsh, but of a teenager on an allotment on the outskirts of Belfast.
Thomas Potter left school with one GCSE and no work experience. He tried and rejected art college and chef training. Now he has a level one qualification in horticulture under his belt.
"I couldn't describe how much more confident I am in this working environment than I am in a kitchen or in the art world," he said.
"It's so much easier for me to comprehend this. I was born and raised in the country and this just works for me."
Thomas is on the Green Jobs scheme, part-funded by the government. It is an attempt to tackle youth unemployment and it takes on people who are aged 16-24 and are not in employment, education or training.
The statistics are stark. There are 48,000 young people in Northern Ireland who fit that description - 22% of 16-24 year-olds.
As well as learning to control weeds and design gardens, Thomas and his 11 course-mates were given training in maths and English, and got CVs and interview tips.
The course leader acknowledges there might not be enough jobs to go around when the training is over.
Kieran Monaghan said: "If a job in horticulture, parks, gardening, comes up, we're hoping that they have all the qualifications and the hands-on work experience that they can go into an interview and stand a chance of getting that job - but we are realistic, we understand there aren't that many jobs on the ground."
He is full of praise for Thomas and the 11 others on the scheme and says their dedication belies the common perception of young people.
"There's a lot of negative publicity about young people but I see the true side of it," he said.
"These are young people who we don't pay, they don't get expenses, but they get out of bed every morning. They're all keen to learn and they want to work."
For all that he and his team prepare the trainees, they can't create jobs. However, some of the trainees would like to take matters into their own hands.
Paul Culbert, 23, said: "There's a couple of us talking at the moment, considering pulling together and actually creating a company. Hopefully down the line we can get that together."
In time, this project's funders will judge whether they got it right, with statistics measuring how many young people finished Green Jobs and went on to get actual green jobs.
For now, their best recommendation is the fact that Thomas, who once had just one GCSE, can explain the pH balances of soil in detail.
He plans to go to university to study botany or landscape design.