Centre for Economics and Business Research: income squeeze easing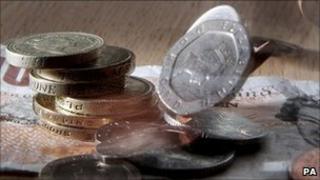 The squeeze on disposable incomes in Northern Ireland households may be stabilising, according to an economic consultancy.
The Centre for Economics and Business Research (CEBR) produces an "income tracker" for Asda supermarket chain.
It examines spending habits and discretionary incomes across the UK.
It concludes that discretionary incomes in Northern Ireland were marginally higher in the last quarter of 2013 compared to a year before.
CEBR said a reduction in unemployment coupled with the sharp reduction in UK-wide inflation over the quarter has helped to halt the year-on-year decline in spending power for families in Northern Ireland.
However, when comparing quarter four to quarter three of 2013 there was a slight fall in disposable incomes.
The report concludes that the average household in NI has £57 a week available to spend after all tax and essential livings costs have been deducted.
The UK average is £158 a week.
Rob Harbron, senior economist, CEBR, said: "The positive effects of economic recovery are now starting to feed through to household finances.
"Once wage growth starts to pick up, a further strengthening of growth on the income tracker is likely.
However, a risk on the horizon comes from interest rates, as the unemployment rate is now very close to the point at which the Bank of England stated they will start to consider raising the bank rate."