Eamon Collins murder: Police obtain DNA from death scene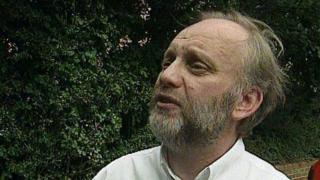 Police investigating the murder of a former IRA man in 1999 have revealed that they have DNA obtained from the murder scene.
Eamon Collins, 45, was found beaten and stabbed to death on 27 January 1999. Police believe he may also have been deliberately struck by a car.
His body was found at Dorans Hill, a country road a short distance from his home in the Barcroft estate in Newry.
Police said they were "not without hope" of an arrest.
At an inquest into the murder in 2007, Coroner John Leckey and State Pathologist Jack Crane agreed it was one of the most brutal, horrific and grotesque murders they had encountered.
Detectives have issued a new appeal for information on the 15th anniversary of his murder.
Assassinations
They are also seeking information about the car used in the attack, a white Hyundai Pony, and a hunting knife, part of which was recovered from the murder scene.
While in the IRA, Mr Collins collected information on police officers and Royal Ulster Constabulary special branch members and set up assassinations over a six-year period.
Although he never directly shot anyone, he provided information and recruited members.
He was arrested in 1985 and charged with 50 terrorist offences including five murders and membership of the IRA.
After his arrest, however, he turned supergrass, the term used for those prepared to give evidence against former colleagues.
More than 40 suspects were arrested, but most were released after Eamon Collins had a change of heart.
He walked free from Belfast Crown Court after the judge dismissed his alleged confessions.
He later wrote a book, Killing Rage, which was highly critical of the IRA.
Det Insp Peter Montgomery said: "Eamon Collins had a well-publicised past, but he was a husband and a father and his life was taken in the most brutal and barbaric manner.
"We have a DNA profile from the scene, so we are not without hope that one of the killer gang will be identified through the course of police inquiries.
'Brutal killing'
"We are also issuing a photo of a hunting knife similar to one used in the attack. We have recovered part of this knife.
"It is 15 years since Eamon Collins was murdered. Much has happened in the intervening years in terms of politics, policing and allegiances.
"I would appeal to anyone who can provide information about the knife, the car or those involved in this brutal killing to contact us."