County Tyrone home damaged in petrol bomb attack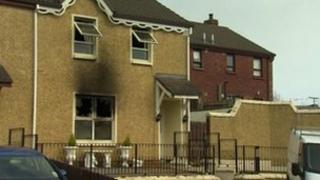 A family home has been damaged in a petrol bomb attack in Coalisland, County Tyrone.
The house in Inishmore Park was attacked at about 22:30 GMT on Saturday. No-one was at home at the time.
Three men believed to be involved in the attack made off in a white car in the direction of Washingbay Road.
The MP for Mid-Ulster, Francie Molloy, condemned the attack, saying there could be "no justification whatsoever".
"The fact that a family could have been in this particular house and could have been burned to death - we could be facing a situation of multiple deaths," Mr Molloy said.
The Sinn Féin MP added that he believed a family from the travelling community lived in the house and that their living room had been "engulfed in flames".
Police have appealed for anyone who witnessed the incident or who has information about it to contact them.