Casement Park: West Belfast residents continue protest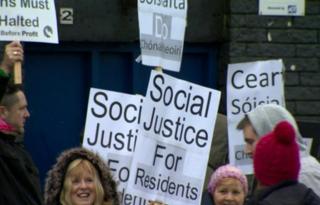 A group of residents from west Belfast have staged a protest over the ongoing plans to redevelop Casement Park stadium.
The major £76m upgrade was given planning approval in December.
More than 100 residents turned up to oppose the scheme to transform Ulster's main Gaelic Athletic Association (GAA) venue into a 38,000-seat stadium.
They said they were concerned that the height of the structure would cast their houses into permanent shadow.
The GAA said it wanted to continue to engage with residents but the chair of the residents association, John Crossey, said that was not happening.
Residents also protested outside the local Sinn Féin offices - angry their political representatives were not doing more.
Sinn Féin MP for west Belfast, Paul Maskey, said he has done all in his power to facilitate negotiations between the GAA and residents and he will continue to do so.
Work is due to start on the stadium at Easter.