Banned play: Arts minister 'saddened' by council decision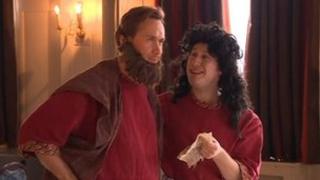 Northern Ireland's arts minister has said she is disappointed and saddened that a play has been cancelled after complaints it was blasphemous.
The comic play, entitled The Bible: The Complete Word of God (Abridged), was due to be staged at the Theatre at the Mill, in Newtownabbey, County Antrim.
It was cancelled by Newtownabbey Borough Council, which runs the venue.
Culture, Arts and Leisure Minister Carál Ni Chuilín said she supported the "right to freedom of expression".
The play was due to be performed by the Reduced Shakespeare Company on 29 and 30 January.
But it was cancelled on Thursday after a meeting of the council's artistic board.
'Christian values'
In a statement, the arts minister said: "I was disappointed to hear of the decision to cancel the production of The Bible: The complete Word of God (Abridged).
"I know that the play has travelled extensively and been performed on the international stage for the past 20 years.
"I am saddened that audiences here will not be offered the opportunity to see the performance and judge for themselves the virtues of the show," Ms Ni Chuilín added.
"I fully support the views of the Arts Council that the artist's right to freedom of expression should always be defended and that the arts have a role in promoting discussion and allowing space for disagreement and debate."
A number of unionist councillors had objected to the production, saying it mocked Christianity.
Mayor of Newtownabbey Fraser Agnew who is an Ulster Unionist councillor, said there was a "need to defend Christian values".
"If it was a play to do with anti-gay material can you imagine the outcry there would be over that, if it was anti-Semitic, if it was anti-Koran... all of those things would create an uproar," Mr Agnew said.
'Bold'
Free Presbyterian Minister, the Reverend Rev Brian McClung, was one of the people who contacted Newtownabbey Borough Council to complain about the content of the play.
He has hit back at those who said the cancellation made Northern Ireland look ridiculous.
"It's never a laughing stock to stand up for what's right, no matter how many oppose it," he said.
"We commend the councillors and have already contacted them again and commended them for being bold enough to take the decision that they did."
Jake O'Kane, one of Northern Ireland's leading comedians called the councillors "zealots" who have no right to be "moral guardians".
"We elected them to empty our bins, make sure the leisure centres were open - that's the powers they have," the comedian said.
"We don't need a bunch of unionist councillors in Newtownabbey deciding what we can or cannot go to see."