Silent danger: Living with a secret addiction
"I thought I was hurting myself and my family and felt it was better to take my own life rather than endure this any more."
That is how a French academic, currently living and working in Northern Ireland, explained the burden of living with a secret addiction. He became dependent on prescription drugs without even being aware of it.
Alex Bunting, head of Corporate Services at FASA (Forum for Action on Substance Abuse) in Northern Ireland, said that such experiences are not uncommon: "The whole stigma attached to substance misuse still exists and that is a key element in people remaining silent regarding their addictions.
"For all the positive work we see on high-profile TV campaigns about removing the stigma of alcohol and substance addiction, we have many people coming in to FASA who don't want to tell anyone about their addiction."
FASA, the subject of a BBC Northern Ireland series Watch Over Me, was the first community-based charity in Northern Ireland to offer support for substance abuse, suicide, self-harm and mental health under one roof.
Stevie Millar, a youth engagement worker with the charity, said that there were a number of reasons for people wishing to not tell anyone about their addictions.
"In my experience, people can be concerned that knowledge of their addiction could put their job in jeopardy. Others are concerned about the effect it will have on their relationship or that it could break up their family," he said.
"When people hide their addictions from loved ones, they can also at times be trying to convince themselves they don't have a problem."
Journey to addiction
Such secret addictions can emerge for a variety of reasons. Our anonymous source explained why he doesn't want people to know about his addiction: "There are many people who may feel they wouldn't like an addict to be teaching their kids."
So how did he reach such a low point in his life?
"In 2010 my mother was diagnosed with cancer and my father was also unwell. Returning to France temporarily to care for my parents, and feeling under a lot of pressure, I went to see a GP, who prescribed me benzodiazepines."
Benzodiazepines include diazepam and temazepam, and are prescribed for a range of conditions such as anxiety and insomnia.
He said he could not have foreseen the difficulty of the journey he was about to embark on.
"My doctor in France didn't explain that there could be an issue with dependency on the benzodiazepines. After several months I stopped taking them, but a couple of weeks later I became very sick and suffered physical and mental problems as a result of not taking the medication."
His father eventually died and, struggling to cope, he was put on a further course of benzodiazepines.
"I was also taking anti-acid tablets. When I stopped taking all my medication it was like a mini-nuclear explosion in my head.
"I lost over two stones in weight. It all led to a mental and physical collapse. I couldn't see a way out and thought I was useless and that I would never work again. That is when I considered suicide."
At this point he began to seek help and was eventually led to FASA. He is unequivocal about the importance of the role FASA played in his recovery: "When you're going through all that, you feel alone and that you don't want to burden your family.
"You need someone who will listen and will help you. I wouldn't be here now without FASA, they helped me piece my life back together and kept my family together. There isn't a pill for every problem."
He went through a drug reduction course and received counselling and acupuncture, all of which he found extremely helpful. For him, the future is now positive.
"For two years I wasn't myself. But I'm 80, 90% back to my old self now. FASA helped me continue with my work and I'm very lucky it didn't destroy my family," he said.
Withdrawal symptoms
He only realised he had a dependence on medication when he initially stopped taking it.
"I felt like someone was drilling my stomach. I suffered vertigo and anxiety. I thought I was maybe going mad or that I had cancer or an ulcer with all my stomach problems."
FASA's Alex Bunting said that it is common for people to be unaware they have an addiction.
"Often the person doesn't realise they have a problem until it creeps up on them and impacts their life," he said.
Mr Bunting highlighted some symptoms that may act as possible indicators of an addiction: "Someone may experience irritability, paranoia and anxiety when not taking the medication or substance. I would encourage anyone in that position to seek help."
He said that long-term prescriptions can be dangerous.
"In the case of co-codamol, codeine converts to morphine in the liver and so a lot of people become addicted to morphine," he said.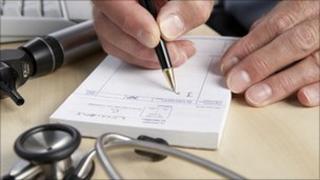 "People can have developed a dependency without realising it, for example, an older person who has been on codeine for seven years because of a bad hip."
Mr Bunting is very concerned by the number of people on this type of medication.
"At FASA, misuse of prescription medication is the second biggest issue we deal with after alcohol abuse. It's important to guard against the perception there is a pharmaceutical answer to lifestyle issues. While medication can be very useful, it isn't always the answer."
British Medical Association
Dr Alan Stout, deputy chair of the BMA (British Medical Association) NI GP Committee, has seen how helpful a role medication can play in tackling issues such as depression and anxiety but acknowledges other solutions are often required.
"Northern Ireland is facing an epidemic of unhappiness at the moment, and there is a challenge to developing community services including counselling further," he said.
Dr Stout said many precautionary steps are taken around prescribing medication.
"A number of medications are well known to be addictive, benzodiazepines are a good example," he said.
"GPs try to reduce their use and prescribing and limit the number issued to patients. This is evidenced by the reduction in the number prescribed over the past number of years.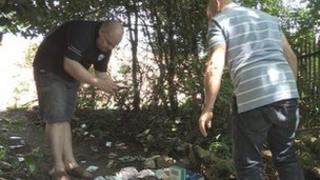 "If a patient is started on them, they will be given a short supply and a review arranged to ensure they do not become dependent on them. It is much rarer now to initiate these drugs, but some are still recommended through hospital clinics."
Dr Stout believes the use of medications that have not been prescribed by the GP and have been obtained illegally is a huge challenge facing society.
"Quite often this is not known to the GP. These are often the cases that become a crisis," he said.
Hidden harm
Alex Bunting said it is important to remember that an addiction can have far-reaching consequences, with hidden harm a significant concern.
"The stigma from the addiction filters out and it can affect many people within families, with children at times being deeply impacted by being exposed to a parent's addiction," he said.
"An addiction can also have as much or more impact on the carer than the person themselves."
FASA is keen to highlight that substance abuse, mental health issues and suicide know no boundaries in terms of class, age or gender.
So what advice does FASA offer people suffering addictions in secret?
Stevie Millar, while understanding people can at times feel vulnerable if their addiction is widely knows, considers it vital to speak to someone.
"Being open and honest is not only very important for the person to build support in FASA, but it's important for them to build support on the outside. So it's vital to have that support for people to be able to express how they are feeling."
Episode three of Watch Over Me, Tuesday 4 February on BBC One Northern Ireland at 22.35 GMT