Ryan McDowell sentence 'lenient not wrong': Court of Appeal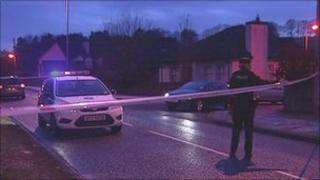 A non-custodial sentence given to a man who made devices planted at a community hall, Catholic primary school and GAA ground, was lenient but not wrong in law, the Court of Appeal has ruled.
Senior judges said in some cases rehabilitation rather than imprisonment could be a more effective deterrent.
Last year, Ryan McDowell from Ahoghill was sentenced to two years probation and 100 hours community service.
The Director of Public Prosecutions had sought an increase to the sentence.
According to Barra McGrory the crude, fireworks-based devices were strategically left at premises in order to intimidate Catholics in the north Antrim area.
Arguing that an unduly lenient sentence had been handed down, he claimed the trial judge put insufficient weight on the sectarian context.
But having dismissed his application, the Court of Appeal gave reasons for the decision.
McDowell, 21, from Laurel Park, pleaded guilty to making and possessing explosives in suspicious circumstances.
Two of the devices contained banger-type explosives while a third was effectively a hoax.
They were all found on the same day in January 2011 at the entrances to St Paul's Primary School in Ahoghill, Clooney Community Centre in Ballymena and the Roger Casement GAA ground in Portglenone.
McDowell admitted having handled the devices after his DNA was recovered from tape used on them.
He denied ever having been a member of the Loyalist Action Force grouping said to have planted them.
Apologised to priest
Instead, he said he just wanted to "fit in" and do something exciting or different, the court heard.
He expressed remorse for his actions and later apologised to a local parish priest.
Explaining the reasons for dismissing the application, Lord Justice Coghlin underlined the need for deterrent custodial sentences in sectarian violence cases without exceptional circumstances.
"However, rehabilitation, rather than incarceration, may in particular cases be the most effective means of achieving lasting personal deterrence, a result that is also very much in the public interest," he said.
The judge added: "We are prepared to accept that this was a lenient sentence and even, as (McDowell's barrister) conceded, that it could be described as a very lenient sentence."
But he held there had been no error in principle or shift outside the range of sentences available to the trial judge, to render it unduly lenient.
"In such circumstances the reference must be dismissed," he confirmed.
Victims' views
Sitting with Lord Justice Girvan and Mr Justice Deeny, Lord Justice Coghlin also set out the conflicting views expressed by the different victims.
Letters from the parish priest and school referred to correspondence from McDowell and a face-to-face meeting.
"They were both generous and humane in content in expressing a hope that the offender would be given an opportunity to pursue a normal life," Lord Justice Coghlin said.
However, a meeting of the Clooney Rural Development Association reached a conclusion that the attacks were aimed at the Catholic community and represented a setback to attempts to improve cross-community relations.
It recommended that McDowell should receive a prison sentence to deter further attacks. Community service would be viewed as a "let-off", the court heard.
Lord Justice Coghlin commented: "Neither members of this court nor the director had ever previously encountered a recommendation from a victim source that a custodial sentence should be passed."
He pointed to a previous ruling which cautioned against either the "understandable outrage of some victims" or the "generosity of spirit shown by others" being allowed to influence sentencing.
"The wisdom of such an approach may be clearly illustrated by the circumstances of this case in which, given the conflict of views, the learned Recorder would have faced an impossible task had he attempted to satisfy the advices of both."