Haass proposals: Deal could secure extra money says Villiers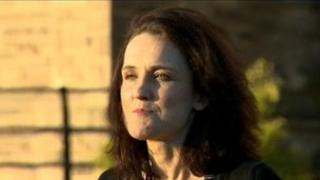 The government would seriously consider any Stormont request for additional resources should the parties reach a deal on flags, parades and the past, Theresa Villiers has said.
US diplomat Richard Haass chaired talks between the NI parties on the three contentious issues.
The secretary of state said she could not give any financial guarantees regarding the stalled Haass proposals.
However, she said she would examine any financial approach from the executive.
"We see the funding of these projects primarily coming from the block grant that the UK government already provides," Ms Villiers said.
"But I've also said that if there's a proposal from the political parties asking for extra funding, then, of course, that will be considered very seriously.
"But I have to be honest, given the deficit we inherited from the previous government and the pressing need to fix the public finances, I can't necessarily promise that additional funding will be available."
The Haass talks broke up without a deal on New Year's Eve.
Two of Northern Ireland's five main parties, Sinn Féin and the SDLP, endorsed the proposals, but the DUP, UUP and Alliance have, so far, rejected elements of the Haass blueprint.
The parties have since held more talks about the issues.
Earlier this week, Prime Minister David Cameron told the House of Commons the government would seek to impose a deal on the Northern Ireland parties.