Comrie Cullen: Friend's shock over fatal stabbing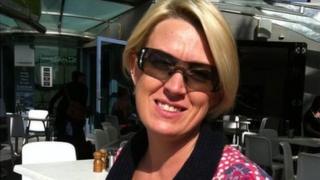 A friend of a woman from Northern Ireland found stabbed to death in Australia has described her shock over the "horrific" death.
39-year-old Comrie Cullen, from Bangor, County Down, was discovered in an isolated car park in Sydney.
A 50-year-old man, believed to be her estranged husband, has been arrested.
Speaking to BBC Radio Ulster's Evening Extra programme on Friday, Renee said news of the mother-of-three's death was "overwhelming".
She said: "It was late at night when I found out. But my first thought was for her children.
"I told a friend that I've just been flicking between my grief for this beautiful person that I'd known and what her children have been robbed of."
'Warm and intuitive'
Renee said she lived near to where Ms Cullen was found, but was not aware the victim was her friend until some time later.
"When we heard a woman had been found in those circumstances it was shocking.
"This evening I had a call from a friend and we talked about how horrific and unbefitting for any person to meet a violent end like this.
"It wasn't until just hours ago I realised it was her. I was sitting at home and someone sent me a link to the story. Before I had even read the article, I saw her face. I could not absorb the reality of it."
Describing Ms Cullen as a "lovely person", Renee added: "She was very welcoming and engaging, very kind and sweet.
"I can remember times going to see her when I was feeling distressed. She was just so warm and intuitive, she would immediately have her arms around me.
"I was always left with the impression of how fortunate her children were to have that kind of personality and sincerity in their mum."