Dick Strawbridge looks into Belfast Harbour's 400-year history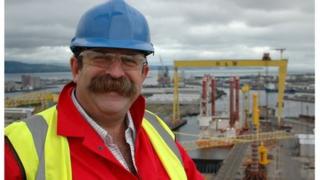 Former army engineer Dick Strawbridge knows a thing or two about incredible feats of construction.
So when he is asked about where Belfast Harbour ranks in terms of ingenuity, there was no hesitation.
"People talk about the efforts that went into building for the 2012 Olympics or the Channel Tunnel? Pah!" he said.
"They're just not on the same scale as Belfast Harbour. It really is amazing."
The feat of engineering is made clear in the documentary Belfast City: Mud, Sweat and 400 years, made for BBC television.
Success
Strawbridge, born in Bangor, County Down, has had a fascination with the harbour for over four decades.
"I can remember travelling up from Bangor to Belfast when I was a child," recalled the 54-year-old.
"I was fascinated by the sheer size of the place and all the activity. It's been in my consciousness ever since."
Mud, Sweat and 400 Years allowed him to dive into the murky depths of time to explore why the harbour came to exist and how its success drove Belfast on to become one of the UK's most important cities.
Created after Belfast was granted a Royal Charter in 1613, the port was originally a tiny operation on the banks of the River Farset, which ran along what is now High Street.
It was dwarfed by the larger, more important harbour at Carrickfergus, County Antrim.
'Amazing achievement'
However the ambitious, emerging merchant classes decided a larger port was needed, setting in motion events that brought about the huge commercial facility that endures today.
Belfast was completely ill-suited to a large harbour, Strawbridge said. "The most amazing thing to understand is Belfast was not the right place for a port this size. It makes no sense," he added.
With the sandy Lagan Estuary a natural obstacle to expansion, developing the harbour required back-breaking labour to deepen channels and reclaim land from the lough.
"It's an amazing engineering achievement. Remember, too, workers dug up land everyday but the tide would fill it with water again," Strawbridge said.
"These guys were fighting one of the most powerful natural phenomena in the world."
Humbling
He added: "Imagine Belfast is still a sandy estuary today. And someone said: 'We'll build a huge port.' There would be an incredible gnashing of teeth.
"People wouldn't believe it could be done and it would cost billions. But back then they said: 'Let's go and do it because we need the resources.' I just love that attitude."
The programme also allowed Strawbridge to throw himself into modern day harbour life, from clambering into the tunnels underneath Belfast's High Street to climbing the dizzying heights of Harland & Wolff's huge cranes.
However the former lieutenant colonel said his favourite moment was meeting retired dockers in Belfast's historic Sailortown area.
"Meeting these guys who worked on the docks for 40 or 50 years was very humbling. They faced real adversity.
"One man recalled how smoke and dust caused his nose to run with blood. But he kept on working with a nosebleed. That would be unheard of now."
Slave trade
Even more poignantly, the presenter is seen reading from the port's accident books.
He recalled: "There were details logged of men who had gotten injured, who didn't have insurance, even those who had died in accidents.
"This is not something that anyone should forget."
The documentary also looks at other unsettling aspects of the harbour's history, such as how merchants were able to profit by dealing with cargo bound for the slave trade.
"There were no slaves actually taken through Belfast," said Strawbridge.
"But when you do not see people actually being loaded onto ships, it's easy to say: 'I'm not part of the slave trade.'
"It was sobering to think that Belfast's traders and church leaders could be involved. They would say they didn't support slavery - but there was still money to be made."
'Respect and pride'
However despite these darker aspects of dock life, Strawbridge says the story of Belfast Port is a great example of remarkable determination.
"It's an encouraging, positive story. I hope the programme communicates the sheer work that went into this port.
"I started off in a position of some knowledge about the port and with a real interest.
"However now I have added respect that has come from understanding fully what this harbour required from people. It doesn't half make you think."
He added: "Along with respect, comes pride. There's a lot here for Northern Ireland to be proud of."
Belfast City: Mud, Sweat and 400 Years will be broadcast on BBC One Northern Ireland, Monday 27 January at 22.35 GMT.