Mount Carmel Hospital placed into liquidation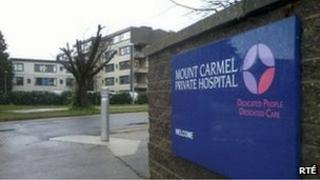 Up to 300 jobs are expected to go at a private hospital in Dublin which has been placed into liquidation.
Mount Carmel Hospital in Churchtown specialises in maternity services. It has been open since 1949.
The hospital was acquired in 2006 by developer Jerry Conlan with a loan of more than 60m euros.
This was later transferred to the National Asset Management Agency, which had been supporting the business while a buyer was sought.
Changes in the Republic of Ireland's health insurance market and the economic downturn are thought to have contributed to its difficulties.
While a number of bidders showed interest in acquiring the hospital, it was thought it would struggle to attract a fraction of the price it was bought for.
In a statement, the hospital said obstetric patients with scheduled appointments in the coming days would be cared for, but no more elective surgeries would be carried out from Friday onwards.