Police hearing loss compensation 'extortionate'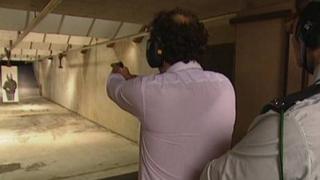 The amount of compensation paid to former police officers who said their hearing was damaged while on duty is "extortionate", Sinn Féin has said.
The settlement for 8,641 former officers has cost £135m, with more than £65m of this going on legal fees.
Sinn Féin MLA Pat Sheehan said the officers were "well paid" and the figure was "clearly unjustifiable".
However, former detective superintendent Alan Mains said it was justified on medical grounds.
"Collectively speaking, it looks like a phenomenal sum. But it could have been dealt with a lot differently... if they had taken a broad common sense approach, instead of challenging medical evidence," he said.
"The reason why we had to carry guns in the first place is pretty obvious - we were the only police service in all of the UK (to have to do so)."
Ulster Unionist MLA Ross Hussey, who is a former RUC officer and a current member of the Policing Board, said he did not understand Sinn Féin's criticism.
"There is a clear negligence on the part of the employer, who were the Police Authority/Policing Board, and therefore there is a legitimate claim," he said.
"I find it strange for Sinn Féin to condemn this because in any other circumstances, an employee who has an injury on duty has a right to claim against their employer."
Firearms training
The payment was criticised by SDLP assembly member Alban Maginness, who said it was a "shocking figure".
"The Policing Board and the Department of Justice have questions to answer about how this was allowed to happen," he said.
"The police could have taken a much broader approach instead of contesting every case, when medical evidence had been provided stating that there had been hearing loss.
"That would have saved a substantial sum of money."
As the only routinely armed police force in the UK, the Royal Ulster Constabulary (RUC) officers had to undergo regular firearms training.
Since the late 1960s, police sources were aware of medical evidence that sufficient ear protection was needed, but the RUC did not provide this for another three decades.
Details of the payments were revealed by the PSNI in response to a Freedom of Information request by Belfast-based victims group Relatives for Justice.
The figures run up to the end of November, with hundreds of other claims pending.
More than 10,000 former RUC officers have lodged claims for damages, saying their hearing was damaged.
The claims include officers who claim to have suffered hearing loss as a result of frequent radio use, while being transported in helicopters and while driving motorcycles.
However, the vast majority of claims are for damage caused during firearms training.
In a statement, the PSNI said: "All hearing loss claims have to be thoroughly investigated.
"The chief constable is fully aware of his responsibility to the public purse and the strategy for handling hearing loss litigation has been kept under review by the Chief Constable's lawyers and the Crown Solicitor's Office with the aim of ensuring that claims are dealt with as economically as is possible given the technical aspects of the cases and the individual circumstances of each."
The PSNI also said all legal costs were closely scrutinised and "have been challenged by the Chief Constable's lawyers when appropriate".