Second burns victim in NHS transplant call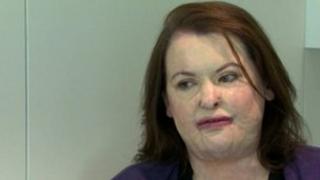 A woman who suffered third degree burns as a child has added her voice to calls for the health service to pay for hair transplants for burns victims.
Emily Savage was speaking after an east Belfast man began his treatment at a private clinic in Dublin.
David Haddock, who was disfigured in a fire over 30 years ago, has had his treatment paid for by a benefactor.
Emily, who was injured in a house fire, paid for her own transplant. She said it was wrong to view it as cosmetic.
"To me it would be if you can't walk down the street, if it affects your everyday life walking down the street, your friends, interacting with people and you need it, then that's reconstructive," she said.
"So for me it did affect the attention I got. I got a lot less negative attention.
"I know a lot of people say they love attention, for me I've had enough attention."