UUP in Northern Ireland Assembly opposition proposal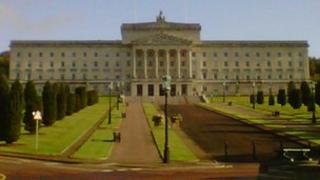 The Ulster Unionist Party has tabled an amendment to the Northern Ireland Bill which would pave the way for opposition rights in the assembly.
The amendment was tabled by Lord Empey.
He said the party had long sought the possibility of an opposition at Stormont "as part of our (NI's) journey to political normality".
He said such a move would provide "a positive contribution to strengthen our democracy" given the "present stalemate at Stormont".
If a party did not want to be in the executive, but also decided against being an opposition that would be up to them, Lord Empey added.
"The request to implement these proposals must come from the assembly to the secretary of state who will then have six months to comply. Assembly standing orders will also have to be amended," he said.
"The proposals provide for a party to approach the speaker if it wishes to have opposition status. Such status would give that party some speaking rights as well as the opportunity to have supply day debates.
"Also, opposition parties would expect to fill the posts of chair and deputy chair of the Public Accounts Committee."
In March 2012, UUP leader Mike Nesbitt said he would like Northern Ireland to hold a referendum to allow people to vote on political and constitutional changes.
He said it would enable the electorate to decide whether Stormont should have an official opposition.
NI21's Basil McCrea dismissed the latest UUP move.
"While it is always gratifying to have political opponents come around to your way of thinking, the UUP has attempted to introduce an opposition to the Northern Ireland Assembly in a pretty confused way," he said.
"Lord Empey's amendment is attempting to give powers to the Northern Ireland Assembly which it already possesses. This is constitutionally very questionable and I doubt it will gain support within the Northern Ireland Assembly or in the House of Lords."