Alleged gunman in loyalist double murder 'not questioned'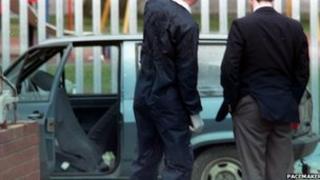 A man identified as the alleged gunman in the murder of two Catholic workmen in Belfast 20 years ago has still not been questioned by police, the High Court has heard.
The man had been identified by a new witness, known only as Witness X.
The revelation came as bail was granted to a man accused over the shootings.
The court was also told how a former police ombudsman found evidence of RUC collusion in the loyalist killings of Gary Convie and Eamon Fox.
Granting bail to Mark Campbell, 42, of Canning Place in Belfast, Mr Justice Horner said: "The court has an incomplete picture as a result of deliberate decisions taken by the prosecution."
Mr Campbell denies the murder charges and other charges of attempted murder and possession of a submachine gun with intent to endanger life.
Mr Convie, 24, and Mr Fox, 44, were shot in their car at a building site in North Queen Street on 17 May 1994.
One man previously convicted in connection with the murders has since died.
Intimidation
During Mr Campbell's application for bail it emerged that he was arrested after police obtained a statement from "a significant witness" in October last year.
It alleged that Mr Campbell was in the getaway vehicle used to drive the gunman from the murder scene.
Bail was opposed amid claims of intimidation directed at the family of the new witness, referred to only as X.
The prosecution said his brother received a sympathy card and bullet in the post on 16 January.
Three days later the brother's partner discovered a brake pipe in their car had been severed.
Counsel for Mr Campbell, who returned to Northern Ireland from living in Scotland three years ago, insisted his client had nothing to do with any intimidation.
Ruling on the bail application on Thursday, Mr Justice Horner said he had been told Witness X also identified the alleged gunman.
"The gunman has still not been interviewed and/or arrested by police," the judge said.
"No reason was forthcoming on why this was the case."
Mr Justice Horner also said he was informed that an investigation by former police ombudsman Nuala O'Loan concluded there was evidence of police collusion in the double murder.
'No evidence'
"There are matters not revealed to the court," he added.
"I'm not told whether Witness X is the subject of protective measures for witnesses at risk and whether Witness X is an accomplice in the murders."
He held that a "weak" prima facie case had been established against Campbell.
But no evidence has been established that the accused was involved in the subsequent intimidation, according to the judge.
He said: "It could well have been that the gunman whom Witness X identified and who the police seem to have ignored has been responsible for the intimidation. The court simply doesn't know."
Despite granting bail on a £2,000 cash surety, Mr Justice Horner stressed the accused's release would be revoked if he becomes involved in any interference attempts.
Mr Campbell was ordered to live at an address in Carrickfergus, County Antrim. He will also be curfewed, electronically tagged and must report to police daily.
The judge refused a further prosecution request to have him banned from entering parts of Belfast considered to have a UVF presence.