Man to go on trial over child prostitution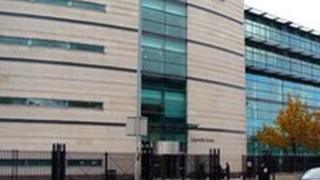 A Belfast man is to go on trial charged with inciting a child into prostitution.
Collin Murphy, 31, of Thornhill Crescent in the Dunmurry area, is also accused of sexual activity and assault offences against the same girl.
Mr Murphy faces a total of five charges, including two counts of possessing cannabis.
It is alleged that he intentionally incited the girl to become a prostitute, knowing she was under 18.
The other sex offence charges involve claims of touching her.
All of the allegations relate to dates in 2011.
The defendant appeared before Belfast Magistrates' Court for a hearing to decide if he has a case to answer.
During preliminary enquiry proceedings, the defendant declined to give evidence or call witnesses at this stage.
District Judge Fiona Bagnall agreed with prosecution submissions that a prima facie case has been established.
She granted an application to have Mr Murphy returned for trial at Belfast Crown Court on a date to set.
The accused was released on continuing bail of £500 until that hearing gets under way.