Betting coup: Barney Curley in £2m racing pay-out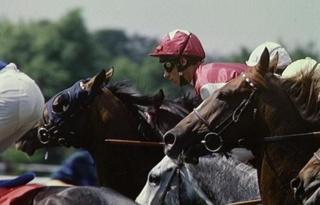 British and Irish bookmakers paid out an estimated £2m on Wednesday on bets linked to County Fermanagh gambler and former racehorse trainer Barney Curley.
The massive pay-out came after a number of horses, some running after lengthy absences from the track, won races at Catterick, Lingfield and Kempton.
Four runners had links with Mr Curley who has been involved in spectacular betting coups in the past.
Heavy betting caused cut prices but by that time winning bets had been laid.
Irish-based bookmaking company Paddy Power reported an estimated loss of 1m euro (£821,000).
A spokesman for Ladbrokes said precautionary measures helped protect the company from having to face a massive pay-out.
'Fancy prices'
"Our decision not to price the Kempton races up until as late as possible helped protect us from the worst of it, and we certainly weren't exposed to any of the overnight business where most of the fancy prices were snapped up."
Corals said: "Victory for all four horses has cost us a six-figure payout, and based on our losses we would estimate the industry has been hit for something in the region of £2m, which although still costly, is perhaps lower than some claims."
In 2010, Mr Curley orchestrated a similar coup when three of his four selections won, giving bookmakers another pay-out headache.
The former showband manager - he managed pop band Frankie McBride and The Polka Dots, the first Irish band in the British Top 20 - said he does not need the money, he does it "for the buzz".
He is the founder of the charity Direct Aid for Africa, which has raised millions of pounds, mainly through the horse-racing community, for children in Zambia.