Bank inquiry: NI staff "vilified" over executive failings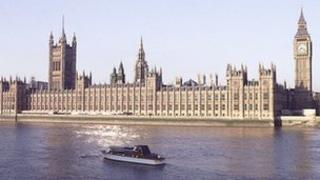 Bank workers feel "vilified" due to failings by senior executives, a Westminster inquiry into Northern Ireland's banking system has been told.
The Irish Bank Officials' Association (IBOA) was giving evidence to the Northern Ireland Affairs Committee.
A representative said staff had received "horrendous abuse" over the matter of branch closures.
He added there was "high anxiety" among Ulster Bank staff that there could be further job losses.
Speaking on Wednesday, the union's general secretary, Larry Broderick, said morale among the bank's staff was "very low" ahead of a strategic review to be published in February.
He added that he was concerned that a restructuring agreement between Ulster Bank and the union may be disregarded by the bank's parent company, RBS.
"Not in the driving seat"
In November, RBS said it was committed to operating across the island of Ireland.
But the bank announced a review which, it said, was aimed at finding a "viable and sustainable business model" following years of heavy losses.
Details of the bank's plans will not become clear until next month when it announces its annual results.
The IBOA also said that "the distance between bank boardrooms and customers may be more pronounced in Northern Ireland".
The union said this was because the banks are ultimately controlled from outside Northern Ireland and therefore local management "are not in the driving seat".
SDLP leader Alasdair McDonnell expressed concern about the "future sustainability" of a significant number of Ulster Bank branches.
Dr McDonnell was speaking after questioning officials from the IBOA on Wednesday.
He said: "I raised the issue of the future of the bank and its branches with IBOA officials at the committee this afternoon and their response was troubling.
"They made it clear that they fear significant branch closures and job losses. This is worrying news, not only for the staff concerned, but for the wider economic recovery."
The banking inquiry is looking at the way banks in Northern Ireland are run, how they provide finance to small and medium sized businesses and access to banking in rural communities.
Executives from Ulster Bank and First Trust are due to give evidence later this month.