Belfast UVF murders court told of 'intimidation attempts'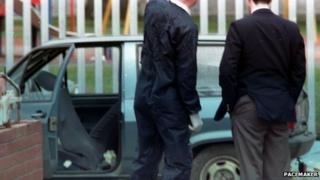 Car brakes were allegedly tampered with as part of attempts to intimidate a key new witness in the investigation of a 1994 double murder, a court has heard.
A sympathy card containing a bullet was also sent to a brother of the witness, prosecutors told the High Court.
The court was told it followed charges being brought against a man over the killing of Catholic workmen Gary Convie and Eamon Fox in north Belfast.
Details were disclosed as Mark Campbell mounted an application for bail.
The 42-year-old, of Canning Place in the city, was arrested and charged with the murders earlier this month.
Mr Convie, 24, and Mr Fox, 44, were sitting in their car at a building site in North Queen Street on 17 May, 1994 when a gunman opened fire with a sub-machine gun.
Mr Campbell is further accused of attempting to murder their work colleague in the same incident, and possessing a Sten submachine gun and ammunition with intent to endanger life.
All of the alleged offences are denied by Mr Campbell.
'Shots fired from playground'
The court heard a lone gunman fired up to 15 shots into the victims' Volkswagen Polo from the direction of a nearby children's playground.
He is alleged to have then shouted "up the UVF" before fleeing from the scene.
One man previously convicted in connection with the murders has since died.
A prosecution barrister said Mr Campbell was detained after "a significant witness" told police he was in the van that drove the gunman from the murder scene.
Opposing bail, the lawyer claimed there was a risk of interference with witnesses.
He said a brother of the new witness had received a sympathy card containing a 9mm bullet in the post in January.
The package had been collected from a postal sorting office in Belfast because the correct postage was not paid.
According to the prosecution a message in the card read: "Happy New Year. Tell that brother of yours to keep his mouth shut. Sleep tight. No surrender."
Brake pipe severed
Three days later the witness's partner got into her car and discovered the brake pedal went right to the floor, the court heard.
An investigation revealed a brake pipe had been severed, the prosecution lawyer said.
A defence counsel said Mr Campbell had nothing to do with any attempted intimidation.
Claiming the new witness was likely to have given evidence against others, the barrister said: "If he falls into the category of what is commonly known as a supergrass, he may well implicate many."
Plenty of people would have a reason for trying to intimidate those close to him, he contended.
The barrister told the court the witness must have been involved in paramilitary activity.
He also claimed there would be little chance to carry out any interference.
"This witness is likely to be in protective custody, witnesses of this status typically are," he said.
"If they are not in protective custody they enjoy some other form of cast-iron protection."
After hearing both sides, a judge reserved his decision on the bail application.