NI to be included in UK cigarette plain packaging law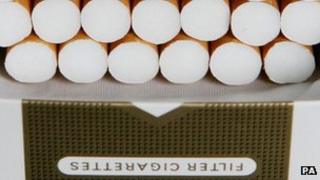 A last-minute compromise has paved the way for Northern Ireland to be included in a new UK law to force cigarette makers to use plain packaging.
There had been concerns that the Stormont Executive was going to miss the deadline set by the government.
Westminster is proposing to legislate on the issue, and had asked Stormont to pass a motion granting it the power to act.
This required the first and deputy first minister to agree to it.
Although Martin McGuinness had signed off on the executive taking this forward, Peter Robinson had not.
A well-place source said there were legal issues and concerns about giving Westminster a blank cheque to legislate on behalf of Northern Ireland.
One source said the wording of the motion proposed by London would have meant Northern Ireland could not opt-out if the new laws were not agreeable.
A new motion has been devised which would allow Stormont to opt into UK laws if they were agreeable.
The charity Cancer Research UK had warned on Wednesday that time was running out and Northern Ireland risked being out of step with the rest of the UK.