Man jailed for manslaughter of brother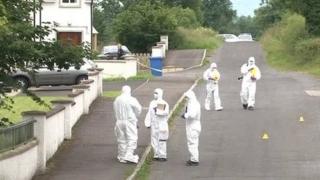 A Fermanagh man who left his brother to die after a drunken row has been jailed for two and a half years.
Mr Justice Weir told Raymond Johnston it was accepted he had not intended to kill his brother, David, in July 2012.
Johnston, from Kinawley Road, in the Florencecourt area of Fermanagh, claimed David, 33, had threatened to rape his pregnant girlfriend.
He was originally charged with murder, but the prosecution accepted Johnston's guilty plea to manslaughter.
Mr Justice Weir said that drink lay behind the tragedy.
He also said it was also believed Raymond Johnston's claims of amnesia about actually stabbing him were genuine.
Both brothers, he said, had spent the day, separately, drinking heavily, before joining up later and continuing to drink and then deciding to go to Johnston's home.
"Had you known when to have stopped drinking," the judge told Johnston, "this terrible event would have been avoided".
However, the brothers did go on drinking, and despite a slight tiff, while they drove to Johnston's home, there was no animosity between the brothers.
But once in the house another row erupted and a fight ensued.
An earlier court hearing was told that Johnston's brother, David, had threatened to rape his pregnant girlfriend and had also told him that he would "gut him like a fish".
Mr Weir said that armed with a knife, Raymond Johnston pursued his brother outside and there was a further struggle.
However, what happened was not witnessed and a short time later, half-naked and blood-stained, Raymond Johnston returned to wash up.
The judge said Johnston referred to the fight "as a wee row" and it was clear from what he said, he expected his brother to come back into the house.
However, said Mr Justice Weir: "He did not come back in. He collapsed outside in the laneway."
'Losing blood'
As he stumbled and staggered about bleeding to death, David Johnston managed to make a final mobile call to his mother and sister, telling them: "I'm dying here, I'm losing blood."
Mr Justice Weir said his mother drove to her son's home, but despite her desperate attempts could not locate his body in the dark.
David Johnston was later found to have six knife wounds, and the judge said the evidence suggested they were caused while those fighting were under the influence of alcohol and while holding a knife, but it did not suggest a deliberate attack to cause serious injury.
While David Johnston's wounds were potentially survivable, Mr Justice Weir said they proved to be fatal, given his intoxication and intense blood loss.
Turning to address Raymond Johnston, Mr Justice Weir said he had been described as a talented hard working metal worker when sober but that he was "defined, in both working and personal environment, by your addiction to alcohol and illicit drugs".
Those addictions, he told him, had cost him not only work, but also relationships and, "have seriously damaged your life and has resulted in the loss of the life of your brother".
Johnston, he said, had stopped drinking and taking drugs, and had sought the help of the church since the tragic events of that night.
The judge said Johnston would serve two and a half years in custody, without remission, to be followed by two and a half years on licensed, supervised parole.