New Belfast footbridge: Public asked for views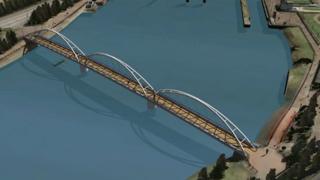 The public is being asked for views on a proposed new pedestrian and cyclist bridge over the River Lagan in south Belfast.
If the project goes ahead, it will link the Gasworks business park with Ormeau Park.
Nine designs have been drawn up and will be put on display at three venues in Belfast.
Transport Minister Danny Kennedy said initial work on a feasibility study was due to be completed next month.
'Iconic landmark'
Public information days are being held in Belfast City Hall on Thursday, the Ozone leisure complex on Monday, and Shaftesbury community and recreation centre on Tuesday.
Mr Kennedy said he intended to develop "an iconic, landmark pedestrian and cycle bridge which will connect two of the city's key assets".
"The existing paths within Ormeau Park are widely used for walking and cycling, while the recent introduction of woodland bicycle trails in Ormeau Park make it an attractive green space in the city centre," he said.
"Importantly, the proposed bridge will build on my commitment to promote and develop cycling as it will provide a quiet route for cyclists and pedestrians to and from the city centre."