New air ambulance for NI after flight ordeal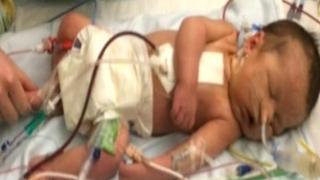 Northern Ireland is to get a new air ambulance to transfer patients to hospitals in Britain.
Commissioners have been planning to provide a new plane for several months and it will be in use soon, according to the Health and Social Care Board.
The move comes after a Belfast mother described the terrifying moment she thought a plane transporting her sick baby to London was going to crash.
Kate McGinn was bringing her son, Laochra, for life-saving heart surgery.
But she thought she and her baby were going to die on the flight, as the air ambulance rattled and shook.
Mrs McGinn said the plane had "a hole the size of a two pence piece" in the door.
The pilot made an emergency landing in Liverpool. Laochra spent two weeks in the city's Alder Hey Hospital.
Kate and her husband, Michael, said the air ambulance was "substandard and unacceptable for both patients, families and staff".
'Precautionary landing'
It has now emerged that a new aircraft, which will have a pressurised cabin, is to be commissioned in a few months.
Commissioners have been working on the provision of a new air ambulance for several month, the Health and Social Care Board said.
Earlier, the board told the BBC it took patient safety very seriously.
"The board would wish to emphasise that the air ambulance operated by the provider fully complies with the current European Aviation Safety Agency regulations, which includes a certificate of airworthiness," the statement said.
"The board was therefore concerned to hear Mrs McGinn's description of the air ambulance and will be raising these matters with the provider."
About 1,500 air ambulance patient transfers have taken place since 2006. In that time, there have only been two occasions when a patient has had to be diverted and the McGinn baby was one of those.
A spokesperson for the air ambulance company said: "A full report has been sent to the Health and Social Care Board, who have pointed out that this was not an emergency landing, it was a precautionary landing.
"There is not a hole in the aircraft door. The door fully complies with the aircraft specifications."
A report has been submitted to the Civil Aviation Authority (CAA).
'Terrible rattle'
Describing the moments leading up to the emergency, Mrs McGinn said: "It was very cold and Dr Bob Taylor wrapped us in blankets.
"There was a hole in the door about the size of a two pence piece. They put a pillow up against that - but you could see the clouds through it. It was just very old and I didn't feel safe.
"They also put pillows and blankets in front of the windows because it was so draughty. It was unreal."
Mrs McGinn said she feared the worst when the plane started shaking.
"We could hear what sounded like a flock of birds hitting the engine," she said.
"There was a terrible rattle from the left hand side, the plane started to shake. I could see the pilots behind the doctor starting to hit buttons, then they said they had to make an emergency landing in Liverpool. I just kept looking at my baby and saying: 'This is unreal'.
"I said, 'this plane is going down and we are going to die'."
'Very distressing'
A spokesperson for the Belfast Health Trust said: "This must have been a very frightening experience for the parents of this very ill baby.
"We are pleased that the family are now back in Belfast and baby Laochra is with us in the children's hospital, where he is now recovering well from his surgery.
"The trust would like to pay tribute to the clinical and aviation staff who ensured that his care was not compromised and he remained stable throughout this difficult transfer."
A Department of Health spokesperson added: "The minister was kept up to date about the emergency landing in Liverpool.
"This must have been a very distressing experience for all travelling on the aircraft and the minister sends his sympathy to the family involved in this frightening incident and hopes that they will soon get over their distress."
'Midwife shocked'
Laochra McGinn was born on 27 December 2013. Kate McGinn went home from hospital five hours later and his heart condition was not diagnosed.
"The midwives were wonderful, but they were so busy and there were no beds. So I just thought I have to go home," she said.
Mrs McGinn believes that if she had been able to stay in hospital for just one night, her baby's heart condition would have been picked up.
"After 12 hours he became jaundiced. He was panting and couldn't feed. My midwife was shocked that I'd been allowed to go home so quickly," she said.
"The next eight days he was in and out of hospital, then on the Saturday after New Year, we were told he needed life-saving heart surgery."
Laochra was diagnosed as having coarctation of the aorta. This is a congenital condition whereby the aorta narrows causing problems for the heart to operate properly.
The McGinns said they were told the only option available was life-saving surgery in England.
But the BBC understands that it is a procedure which many people had hoped would be carried out as part of new arrangements involving surgeons in Dublin and Belfast.
While she has nothing but praise for the medics in Alder Hey Hospital in Liverpool, Mrs McGinn said the English team was shocked that Northern Ireland could not provide paediatric cardiac surgery.
"I want to know why we have to travel so far when we have a first-class hospital in Northern Ireland," she said.
"I have four other children whom I didn't see for two weeks. It's those times you need your family round you to listen to what the doctors are saying."
Laochra returned home to the Royal Victoria Hospital in Belfast on Friday.