Philip Strickland murder: Mother 'aware' of UVF threat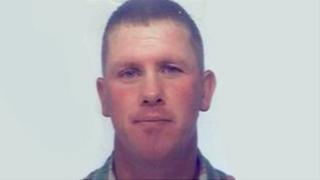 The mother of a County Down murder victim told a court she was aware of a paramilitary threat against her son four or five years before his death.
Philip Strickland, 36, was shot on the Ballydrain Road, near Comber, on 11 January, 2012.
On trial for his murder are Jimmy Seales, 56, from Ballykeel Road, Hillsborough, and Stephen McCaughey, 26, of Shackelton Walk, Newtownards.
Both men deny murder and possessing a shotgun with intent to endanger life.
In a statement read at Belfast Crown Court on behalf of Mrs Elizabeth Dempster, she said her son had been threatened by the Ulster Volunteer Force and told to stay out of Comber following a fight in a local bar.
The statement also revealed that police told Mr Strickland of a second threat against him while he was living on the Ballybeen estate, but she was not aware why this second threat had been issued.
Mrs Dempster's statement also revealed her son's "attitude changed" when he was "put out" of Comber, and that he started saying what he wanted.
She said she was also aware that Mr Strickland had posted comments on Facebook about Jimmy Seales being assaulted, in September 2011.
In her statement, she described her son as a "grafter" who was not perfect but was well liked, popular and who "never would have hurt anyone".
In court on Tuesday, Dr James Lynas, assistant state pathologist for Northern Ireland, gave evidence about his post-mortem examination of Mr Strickland's body.
He told the jury that Mr Strickland died from a gunshot wound to his forehead. Death would have been "rapid", he said.
In Dr Lynas' opinion, the gun was fired "at close range, probably no more than a metre or two" from Mr Strickland's head.
Mr Strickland was also shot in the left leg, he said.
The trial continues