Belfast Metropolitan Area Plan green light uncertainty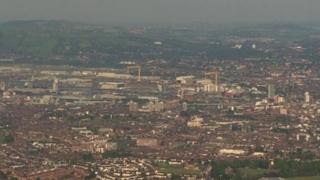 Uncertainty remains about when Stormont ministers will sign off on a major development plan for greater Belfast.
The Belfast Metropolitan Area Plan was given to ministers by the Department of Environment late last year.
The plan, which identifies zones for retail, residential or commercial development, is due to come into full effect, on adoption, in 2015.
The DoE had hoped it would be given the green light by other departments by the end of last year.
However, the BBC understands that First Minister Peter Robinson regards the plan as a cross-cutting matter relevant to more than one department.
DUP sources say that legal advice, obtained after the plan was previously raised by the former Environment Minister Alex Attwood, backs the argument that the final version must be approved by the executive as a whole.
The DoE said it was unaware of any legal advice obtained by the DUP or the Office of the First and Deputy First Minister on the matter.
'Watertight'
SDLP sources say Mr Attwood's successor, Mark H Durkan, circulated the plan as a courtesy to his colleagues.
The Department for Regional Development has already given the plan a certificate to confirm it conforms with its requirements.
The DoE wants the plan to be put on the executive's agenda soon, and believes it is "watertight" in its current form.
When Mr Attwood decided to limit further development at Sprucefield, near Lisburn, early last year - a move that led to John Lewis pulling out of its proposed development - he cited the retail strategy contained in the plan as one of the reasons for his decision.
Speaking to the assembly on Tuesday, Environment Minister Mark H Durkan said representatives from the local construction industry had expressed grave concerns over the continuing delay in the publication and adoption of the plan.
Mr Durkan told MLAs that many house builders see the adoption of the plan as crucial to their future, and some builders are now under severe pressure from their banks to recover significant amounts of money they have invested in the plan's inquiry process.
Asked by DUP MLA Alex Easton if he had been advised by the attorney general that the plan was a "cross-cutting" issue requiring approval of the executive, Mr Durkan said he "recognised that point of view".
He told the assembly that he has sought the approval of ministerial colleagues in order to proceed, because of the uncertainty the delay in publishing the plan is causing for developers and business.
The plan covers not just Belfast but outlying areas such as Carrickfergus, Lisburn, Newtownabbey and North Down.
It affects almost 40% of the Northern Ireland population.