DUP denies ordering Ian Paisley to quit as leader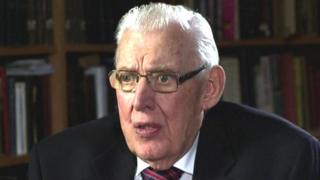 The Democratic Unionist Party has repeated its denial that senior party figures ordered Ian Paisley to stand down as leader in 2008.
Mr Paisley has accused the current DUP leader Peter Robinson and the party's deputy leader Nigel Dodds of giving him an ultimatum to leave his post.
He made the claims in a BBC programme that was broadcast on Monday night.
Following the broadcast, a DUP party statement said the events alleged by Mr Paisley "simply did not happen".
Pressurised
"At no point were those colleagues named in the programme involved in any meeting where Dr Ian Paisley, as he was then known, was given an ultimatum to step down as Democratic Unionist Party leader," the DUP statement said.
"Nigel Dodds did not issue an ultimatum that Ian should be gone by Friday nor did Peter Robinson issue any two-month ultimatum. That simply did not happen.
"Nor did any meeting involving those named by Dr Paisley take place in February as claimed in the programme," the statement added.
Mr Paisley founded the DUP in 1971 and led the party for 37 years.
By the time of his retirement the DUP was the biggest political party in Northern Ireland, and Mr Paisley had spent just over a year as first minister in a power-sharing coalition.
As he stepped down in June 2008, Mr Paisley denied that he had been pressured into leaving his post.
'Statement of facts'
But more than five years later, in the programme Paisley: Genesis To Revelation, he alleged Mr Robinson and Mr Dodds had told him to go.
"Nigel Dodds said to me 'I want you to be gone by Friday'," Mr Paisley told the programme.
"I just more or less smirked and Peter said 'no, no, no he needs to stay in for another couple of months'."
After the broadcast, the DUP issued a new statement outlining its "statement of facts" about party meetings to discuss Mr Paisley's leadership in early 2008.
The DUP said that a meeting took place on 31 January 2008, during which a party delegation "relayed the opinions" of DUP MLAs on a "range of issues" to Mr Paisley.
The statement said the delegation did not express its own views on the matters, but added that Mr Paisley "did not accept that the account represented the position of colleagues".
'Inaccuracies'
The DUP added that after this meeting, Mr Paisley asked his special adviser Timothy Johnston to conduct a survey of DUP MLAs and MPs "to give 'a general view' of his standing in the party".
They said the survey was carried out "in the manner he requested" on 4 and 5 February 2008.
According to the DUP statement, the results were given to him, marked "Strictly Private and Confidential" on 6 February 2008.
"On 4 March 2008, Dr Paisley sought a meeting with his deputy leader where he indicated he intended to announce his retirement, but said he first wanted to host the International Investment Conference some two months later," the DUP statement said.
"As Lord Bannside has said in several interviews and in correspondence, he chose his time of retirement, not anyone else, as has now been suggested.
"The party is saddened by this turn of events and has only chosen to correct some of the main inaccuracies. A running commentary is unedifying."
"The party is grateful for the good things that Dr Paisley did to bring about political progress in Northern Ireland and continues to wish him well."
Watch episode two of Paisley: Genesis to Revelation on the BBC's iPlayer (available until 27 January 2014).