Port of Larne: Dramatic drop in passenger numbers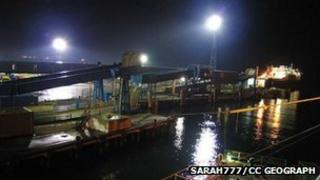 Concern has been raised about the future of the Port of Larne in County Antrim after a dramatic drop in the number of passengers in 2013.
Last year, 30,000 fewer people came through the port compared to 2012.
Since 2010, annual passenger numbers have dropped by 220,000.
However, Port of Larne management said that significant investment made by P&O in its Larne ferry service highlighted its commitment to the port.
"Like many businesses in Northern Ireland the economic downturn has had an impact on business and for the Port of Larne that has meant a reduction in the number of passengers and freight using the port," said managing director Keith Millar.
"However, since July 2013 the market has improved significantly and the Port of Larne is seeing an increase in the forecasted volume of traffic using the port, and we're confident that this turnaround coupled with our significant investment will continue to deliver strong results and improvements."
Sinn Féin assembly member Oliver McMullan said he was concerned by the "dramatic" fall in the number of passengers and freight going through the port.
"If these trends were to continue then the long-term viability of the port must be called into question," he said.
"As one of the major employers in the East Antrim area, it is important that we secure the future of the port by making it more competitive and accessible."